farmers: Excessive rains wash away nearly 34,000 hectares of farmland in Gujarat | Rajkot News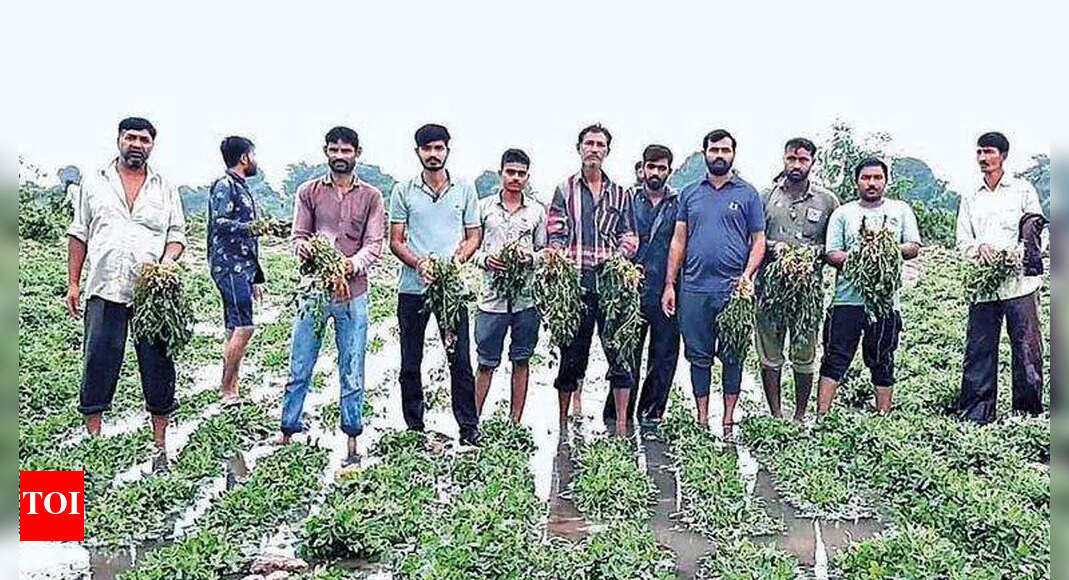 RAJKOT: About a month ago, farmers were facing poor harvests due to lack of rain. But the excessive downpour last week turned out to be a double whammy for them. Not only standing crops but also agricultural land were washed away in Jamnagar district and parts of Rajkot district.
In addition to counting this season's crop losses, farmers are also worried about the challenges they will face over the next two or three years. "We lost this season's harvest. But our major concern is to make the land suitable for cultivation again. Farmers will have to level farmland and develop new soils. It will be a few years before most of us can harvest a new crop, "said Pal Ambaliya, president of the Kisan congress.
Official figures indicate that around 34,000 hectares of farmland have been washed away in the two districts. And the count is not over yet.
"According to a provisional estimate, 31,000 hectares of farmland have been damaged. The rain has not yet fallen and the farmland is still flooded, so our teams are encountering difficulties in the investigation. About a hundred teams take stock of the losses suffered, "said PS Zamsingh, collector of Jamnagar district.
According to the Rajkot district administration, around 4,398 hectares of agricultural land in Lodhika taluka were damaged by the rain. Lodika received about 650 mm of rainfall in two days.
Chintan Kangad, a farmer from Upleta taluka, saw the rain wash away the standing peanut crop of his 15 bighas in the village of Nilakha. "In Upleta and Bhayavadar taluka there are three rivers – Moj, Venu and Bhadar – and all of them overflow. Farmers in Upleta and Bhayavadar, who had sown groundnuts, cotton and tur (pigeon peas), suffered huge losses, "Kangad said.
Payal Kantariya, a farmer from Jamnagar district, said that with the exception of the Lalpur and Jamjodhpur talukas, farmland in other parts of the district has been damaged by excessive rains. "In other talukas, including Kalavad, Dhrol, Jodiya's farmland has been washed away. In many villages whole peanut plants are being pulled up and farmers will now have to spread new soil to make the land fertile again.
According to sources, 15-20% of the cotton crop was damaged in the talukas of Gondal, Babra, Aatkot, Kalavad and Dhrol.
Millers see a ray of hope amid the gloom
Excessive rains have caused massive damage and farmers are mourning crop losses, but oil mills see a silver lining amid the gloom. Kishor Viradia, President of the Saurashtra Oil Mills Association (SOMA), said: "Until last month, we were expecting a harvest of only 30% this season due to the prevailing drought situation. Jamnagar and Porbandar are the biggest peanut producers and after the rains we expect a harvest of around 60-70% this season. Groundnuts are cultivated in the districts of Gir Somnath, Junagadh, Amreli, Surendrangar, Jamnagar, Porbandar, Devbhumi Dewarka and Bhavnagar. Gujarat's average peanut production is around 32 lakh tonnes.
Damage to government infrastructure is assessed at Rs 96 crore
According to an estimate by the Rajkot District Administration, government infrastructure worth Rs 96 crore was damaged due to heavy rains. "According to the primary estimate, 14 main roads, 138 secondary roads, 117 electricity poles, 14 supply lines and control dams were damaged. The total damage is in the order of Rs 96 crore, "said Arun Mahesh Babu, district collector of Rajkot.