Ukrainian agricultural products will arrive faster in the EU as Poland eases inspections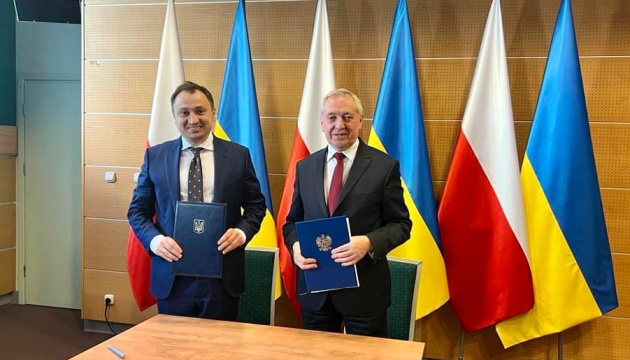 Kyiv and Warsaw agreed to speed up inspections at the Ukrainian-Polish border and simplify exports of Ukrainian agricultural products to the EU and third countries.
This is according to a joint statement signed in Warsaw on Monday by Ukrainian Minister of Agrarian Policy and Food Mykola Solsky and Polish Deputy Prime Minister – Minister of Agriculture and Rural Development Henryk Kowalczyk, reports a correspondent for Ukrinform.
The parties assumed that Russia's large-scale aggression against Ukraine had severed traditional agricultural export supply chains and blocked Ukrainian ports through which most agricultural products were transported. In addition, 400 million people around the world could be left without food, which will cause famine and new migration crises.
Therefore, it encourages the establishment of reliable transit corridors for agricultural exports to third countries and closer cooperation in the agricultural field between Ukraine and Poland.
Read also: Ukraine and US discuss partnership to increase Ukrainian grain exports
Within the framework of these agreements, the Ukrainian side will organize the transport of goods through designated border inspection posts in Poland, while the Polish side will examine the current requirements for veterinary control of cargo in transit of grain from Ukraine and will ensure the transit of grain at all checkpoints on the Polish border.
As reported, in the first half of May, Poland introduced round-the-clock operations at border veterinary checkpoints. In addition, the parties agreed to increase the number of veterinary inspectors at the designated border inspection posts, as well as the possibility of organizing their work 24 hours a day, 7 days a week at the busiest posts in order to facilitate rapid control of imported and transiting goods of plant and animal origin from Ukraine.
It is emphasized that the parties will cooperate to solve the problems of logistics by rail of goods of plant and animal origin and ensure the smooth flow of agricultural products.
As noted, due to the blockade of Ukrainian seaports, 7 million tons of wheat, 14 million tons of corn, 3 million tons of sunflower oil and 3 million tons of sunflower meal and other crops have not reached the world market. This has already led to a record rise in prices on the world market and will inevitably lead to a global food crisis and rising inflation.